In Q1'23, global smartphone market faced a significant contraction. Shipments declined by 14% YoY and 7% QoQ to 280.2 million units. According to Counterpoint, this downturn followed the weakest holiday-season quarter since 2013, which was characterized by slow recovery in China and weakened consumer confidence due to alarming bank failures on both sides of the Atlantic.
Global smartphone revenue and operating profit also experienced a decline, although not as steep as the decline in shipments. Apple managed to ship 58 million units in Q1'23, which allowed the company to capture nearly half of all smartphone revenues. Samsung's shipments declined by 19% YoY but grew by 4% QoQ to 60.6 million units, with the launch of the Galaxy S23 series contributing to an increased average selling price (ASP) of $340, up 17% YoY and 35% QoQ. Apple and Samsung continue to be the most profitable brands, capturing 96% of global smartphone operating profits.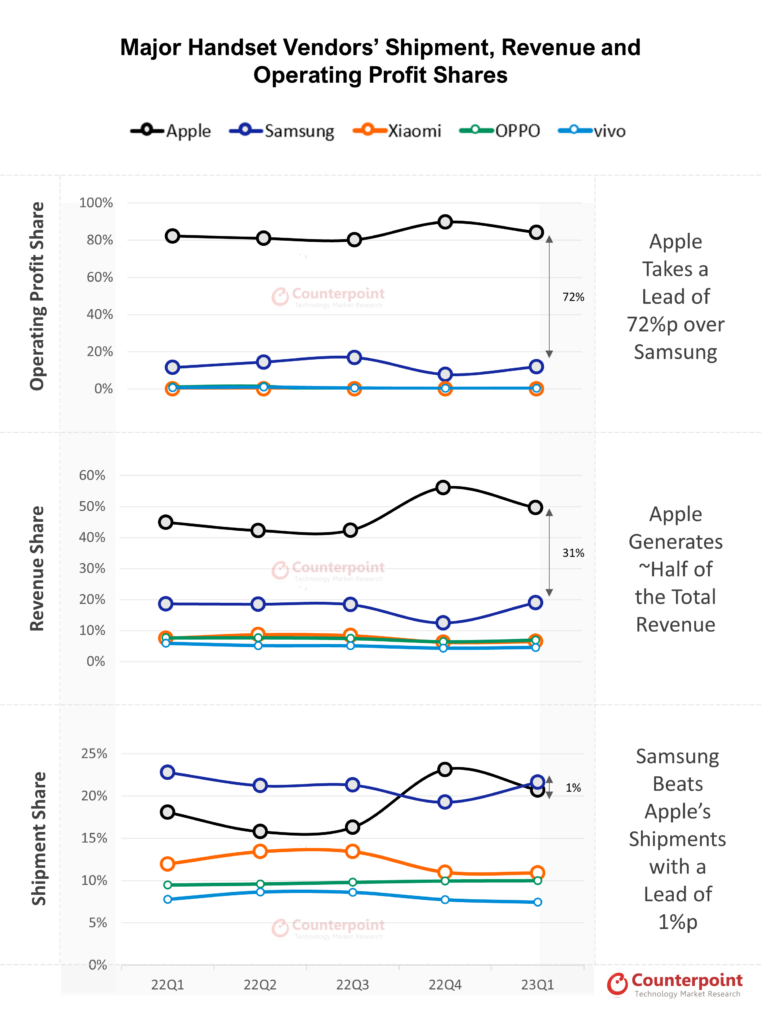 Apple's performance in Q1'23 can be attributed to several factors, including the strong loyalty of its customer base, increased focus on sustainability, and the growing popularity of the brand among Gen Z consumers in the West. The company has also been filling the void left by Huawei in China's premium market. This has allowed Apple to weather economic fluctuations better than its rivals while enjoying strong loyalty from its customers.
Other major global smartphone brands from China, such as Xiaomi, Oppo (which includes OnePlus), and vivo, saw double-digit annual declines in Q1'23 due to a seasonal slowdown in China and a slower-than-expected economic recovery. Oppo has also faced challenges in overseas markets, including exiting the German market after losing a patent lawsuit with Nokia. Revenues and profitability for these brands have struggled, with both Oppo and vivo experiencing annual shipment and ASP declines, leading to double-digit revenue declines. Xiaomi's slight annual ASP growth was not enough to prevent a double-digit revenue decline in Q1'23.