According to the latest report from the International Data Corporation (IDC) on the India wearable device market in Q1'23, the industry demonstrated robust growth. Shipments of wearable devices reached 25.1 million units, representing an impressive 80.9% year-over-year (YoY) increase. However, the market remained flat quarter-over-quarter (QoQ) following a strong performance in Q4'22.
The share of smartwatches in the overall market expanded significantly, growing from 26.8% to 41.4% compared to the previous year. The earwear category also experienced notable growth with a 48.5% YoY increase. This healthy growth can be attributed to improved supplies, leaner inventory management, multiple new product launches, and faster portfolio refreshes. Furthermore, the intense competition among several small players based in India, collectively holding over 15% market share, has resulted in a decline in the average selling prices (ASPs) of wearables to $22.7 in Q1'23, down from $29.5 a year ago. The online channel continued to dominate with a market share of 73.9%.
Smartwatches, encompassing both basic and advanced models, emerged as the fastest-growing wearable category, witnessing a YoY growth of 178.9% with 10.4 million shipments. The ASP of smartwatches decreased by 42.0% YoY to reach $29.2, compared to $50.4 a year ago. Basic smartwatches dominated the market, capturing 98.0% share and experiencing an annual growth rate of 187.4% in Q1'23.
The report also highlighted the top five wearable companies in Q1'23. Imagine Marketing (boAt) maintained its leading position with a 25.6% market share, achieving a remarkable 102.4% YoY growth. Fire – Boltt secured the second spot with a 12.4% share and demonstrated significant growth of 238.3% YoY. Nexxbase (Noise) stood in third place with an 11.9% market share and a YoY growth rate of 97.3%. Boult Audio ranked fourth, exhibiting a healthy YoY growth of 366.5% and capturing a 9.3% market share. Oppo (including OnePlus) secured the fifth position with a 4.7% market share, despite experiencing a decline in shipments of -5.8% in Q1'23. Other noteworthy players in the market included Palred (pTron), Seminole, SRK Powertech (Pebble), Ambrane, and Brandscale (Wings Lifestyle).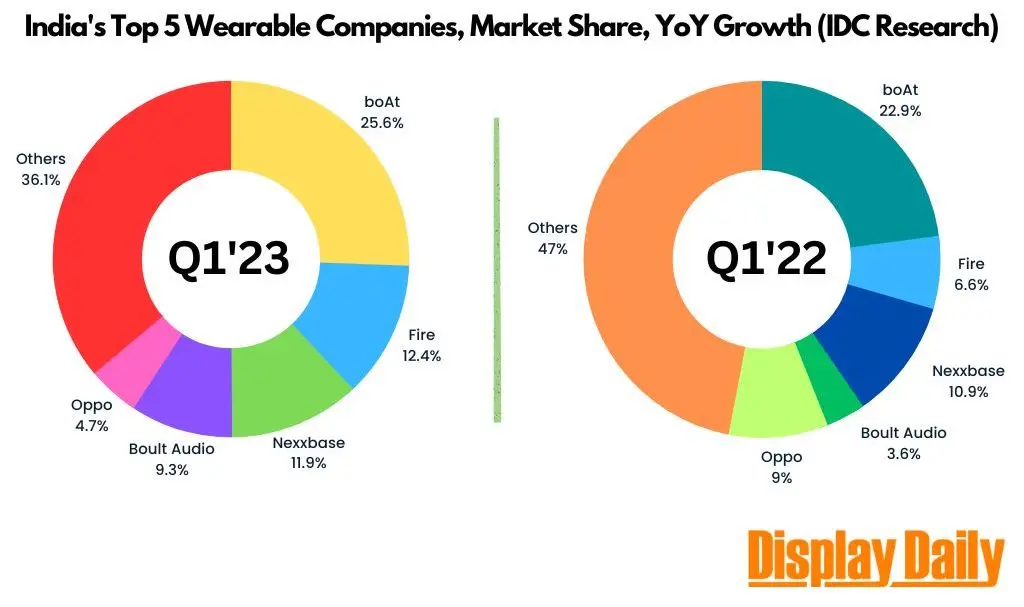 The smartwatch market also saw Fire – Boltt leading with a 28.6% market share, followed by Nexxbase (Noise) with a 21.6% share. Imagine Marketing (boAt) secured the third position with a 17.5% share. Smartwatches, including both basic and advanced models, were the fastest-growing category, with 10.4 million shipments and a YoY growth of 178.9%. The average selling price of smartwatches decreased by 42.0% to $29.2, with basic smartwatches dominating the market at 98.0% share and growing by 187.4% annually in Q1'23.