Qualcomm announced new features and developments for its Snapdragon Spaces XR Developer Platform, with the aim of creating an open ecosystem for extended reality (XR) experiences. XR encompasses virtual reality (VR), augmented reality (AR), and mixed reality (MR) technologies.
One of the key features introduced is called Dual Render Fusion, which allows developers to seamlessly integrate head-worn AR experiences into existing smartphone applications. This feature enables the extension of 2D mobile applications into immersive 3D experiences, combining the familiarity of smartphones with the capabilities of AR glasses. Dual Render Fusion aims to unlock the full potential of smartphone-powered AR and make it more accessible to a wider range of developers.
The Snapdragon Spaces platform has garnered significant developer support, with thousands of developers joining the community. Notable members include Pathfinder, which has grown to over 80 members, and three new venture investments by the Metaverse Fund. Additionally, an inaugural group of 10 companies has joined the Niantic Lightship and Snapdragon Spaces developer initiative.
Several XR devices have committed support for Snapdragon Spaces. These include the Oppo MR Glasses, a binocular AR device equipped with RGB cameras for a stereoscopic view of the physical world. The Oppo MR Glass Developer Edition will be made available as a Snapdragon Spaces developer kit. TCL RayNeo is developing AR glasses with committed support for Snapdragon Spaces, and DigiLens is launching the Argo, an all-in-one Snapdragon Spaces Ready AR device designed for enterprise and industrial use. The Lenovo ThinkReality VRX, an all-in-one VR headset for the enterprise, has also been announced as a Snapdragon Spaces Ready device.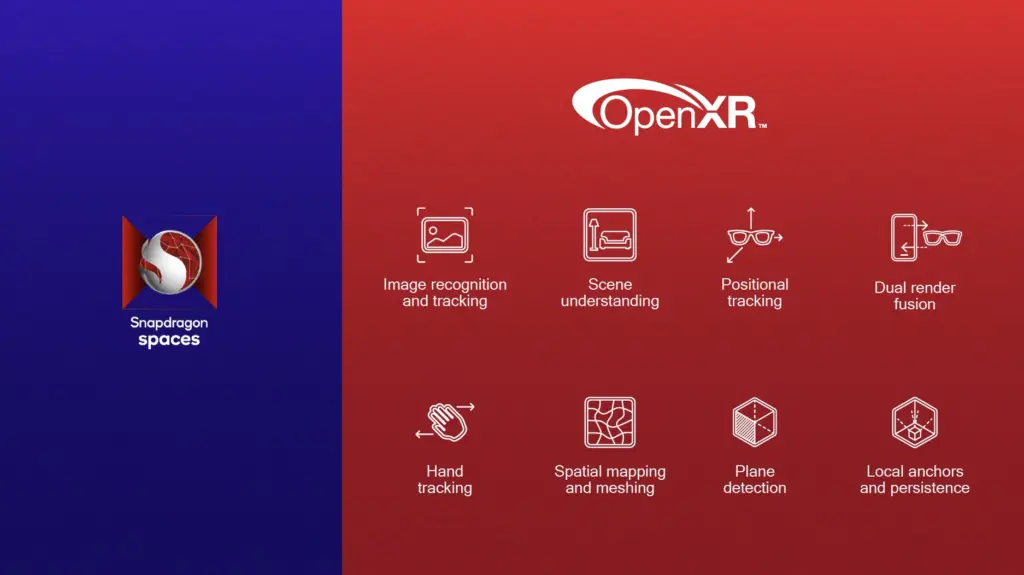 The Snapdragon Spaces platform has attracted developers from various industries, including enterprise collaboration, productivity, gaming and entertainment, health and wellness, training, education, and WebXR. Notable companies building with Snapdragon Spaces include Red Bull, Kittch, Arthur Digital, Arvizio, Glue Collaboration, AmazeVR, FitXR, Pixo, AjnaVidya, Igalia, and many more.
Qualcomm Technologies has also strengthened its collaboration with Niantic, a prominent AR company. A group of 10 AR developers, including Artifice, DB Creations, Foundry Six, Hot Dark Matter, Immuse, Kinfolk, Lifecache, Loak, Sugar Creative, and Trigger, will have early access to Niantic's Lightship VPS with Snapdragon Spaces, enabling the creation of indoor and outdoor AR experiences.
As part of the Snapdragon Metaverse Fund, Qualcomm Ventures has made investments in various XR companies, including Survios, EnlightXR, Tangle, Tripp, and Echo3D. The fund aims to foster innovation and support leading XR companies.