Rohm has introduced a series of LED driver ICs known as the BD94130xxx-M. These cutting-edge drivers have been specifically designed for automotive LCD backlights and provide independent control of up to 192 zones.
With the increasing adoption of next-generation car infotainment systems and instrument clusters, the demand for larger displays with higher resolution has grown significantly. In response, Rohm has developed LED drivers equipped with a local dimming function. This innovative feature allows the drivers to selectively turn off the backlight in dark areas of the LCD, enhancing display screen performance and reducing power consumption—a crucial consideration in automotive applications.
Traditionally, direct-type LED drivers have faced limitations in controlling a high number of zones. As automotive displays become larger and incorporate more zones, the complexity of the design and the number of required LED drivers and peripheral components have increased, presenting significant challenges. To address this, Rohm's BD94130xxx-M series combines an 8-line switch controller with a 24-channel current driver, enabling the control of mini-LEDs in up to 192 zones with just a single IC. The local dimming function allows independent adjustment of mini-LEDs in each zone, resulting in improved contrast ratios and further reductions in power consumption.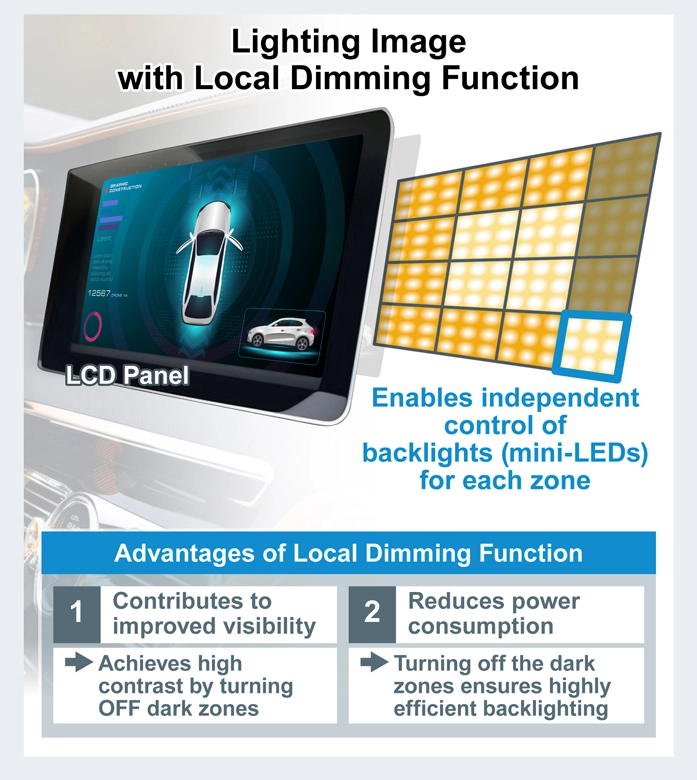 The advantages of Rohm's LED drivers become even more evident when considering the number of LED drivers required for current mainstream 10-inch class infotainment displays, which typically consist of approximately 600 zones. By utilizing Rohm's new products, operation with only one-fourth of the number of LED drivers compared to existing products (with 48 zones) becomes possible. This remarkable reduction in the number of LED drivers results in a substantial decrease of approximately 84% in the LED driver mounting area. As the size of screens continues to increase and the number of zones in next-generation cockpits rises, the benefits of Rohm's LED drivers become increasingly pronounced.
The BD94130xxx-M series offers flexibility through the selection of switch controller lines. Users can choose from three patterns (4, 6, or 8) by making register settings, allowing for customization based on the number of zones and LED current consumption requirements. Additionally, these LED drivers feature a built-in feedback control function that ensures a constant feedback voltage, independent of LED temperature characteristics. This integrated function reduces the need for extensive thermal design efforts and minimizes loss ratios.
Rohm's new LED drivers are versatile and can support various high-contrast automotive displays. Applications include electronic mirrors (side/rear view), instrument clusters, car infotainment systems, and head-up displays (HUDs).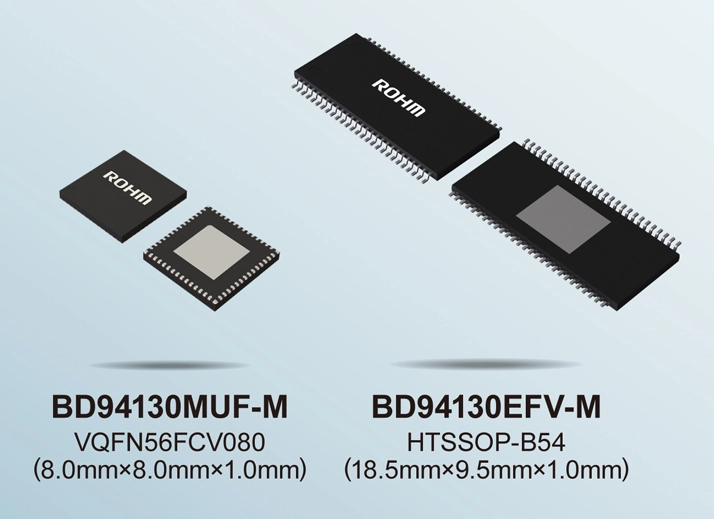 For detailed technical information and specifications, data sheets for the BD94130MUF-M and BD94130EFV-M LED driver ICs are available online. These products operate within a wide temperature range from -40°C to +125°C and are AEC-Q100 qualified, ensuring their reliability in automotive applications. The BD94130MUF-M is offered in a VQFN56FCV080 package measuring 8.0×8.0×1.0mm, while the BD94130EFV-M is available in an HTSSOP-B54 package measuring 18.5×9.5×1.0mm.