The global smartphone industry is currently at a crossroad, with multiple forces shaping its trajectory in 2023. Preliminary data from Counterpoint projects a 6% decline in shipments for the year, reaching a decade-low of 1.15 billion units.
In Asia, the once-promising economic turnaround for China has been hindered by various issues, leading to broader declines across emerging markets. Similarly, North America struggles with consumer reluctance to upgrade devices, resulting in record-high replacement rates and double-digit full-year declines. One bright spot, potentially, is the launch of the iPhone 15 as a pivotal moment for carriers to seize high-value customers and Apple's opportunity to capitalize on the anticipation of its loyal user base. In fact, 2023 could mark a pivotal year for Apple in other ways, too, as it could become the world's top smartphone vendor in terms of annual shipments for the first time ever. Apple is well-positioned in China's premium segment and is expanding in India, pretty much addressing half of the world's population directly. It has always been the premium brand in North America, but not necessarily in other parts of the world. Now, it could have it all.
Shifting gears to the foldable smartphone sector, DSCC's Q2'23 statistics show a 16% quarter-over-quarter increase and an impressive 42% year-over-year rise in foldable phone shipments. Samsung leads the foldable charge with a narrow 32% market share, followed by Huawei with a 30% market share. Surprisingly, clamshell designs have captivated consumers, commanding 53% of the total unit share.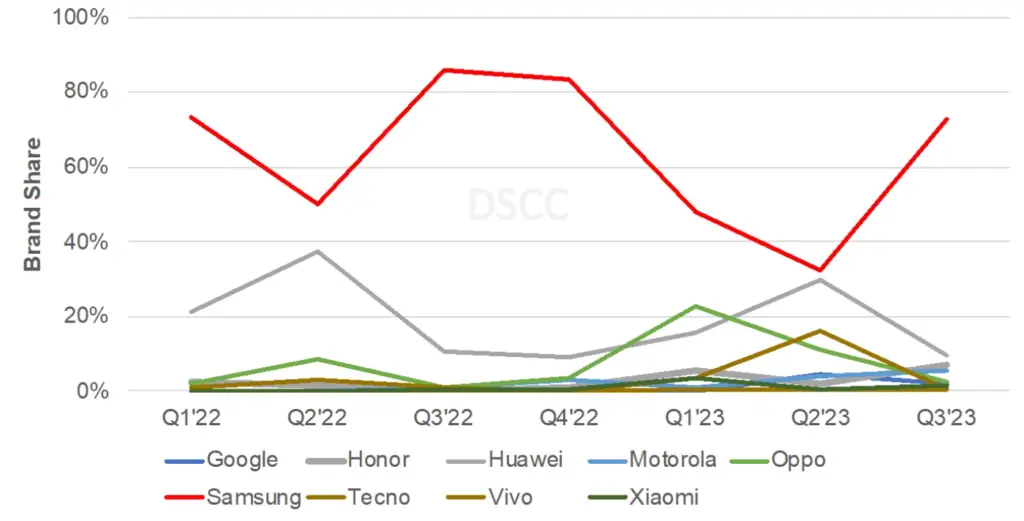 Samsung's dominance is evident, holding a 63% share of foldable smartphone panel shipments. However, this is a slight decline from its previous high, which may also be a hint of the increasing competition in the market. Q3'23 promises a surge in foldable smartphone shipments, with Samsung projected to maintain its lead, driven by the launches of Z Flip5 and Z Fold5. While the competitive landscape includes Google, Honor, Motorola, and Xiaomi making gains, Samsung's position is very strong.
Unfortunately, foldables are about 1–2% of the total smartphone market. Even at the existing rate of growth, they only end up being 10% of the market in a few years. Apple can afford to keep away from foldables for a long, long time because the volumes are just not there for the company to find them meaningful. On the other hand, as a foldables fan, I really hope the form factor takes off in a bigger way. It only takes one product, at the right price, to change that dynamic. That's what the iPhone did, and that's what foldables need, too, that one product that changes the public's demand for devices. Otherwise, Samsung gets to be a big fish in a small pond, and Apple gets to be an even more gigantic monolithic unmovable force for a long, long time.