Sony just announced the launch of its new Verona series of Crystal LED displays, specifically designed for virtual production applications. The company is very proud of the deep black and anti-reflection surface technology of the product line. It claims to offer deeper black levels while significantly mitigating contrast loss, which typically arises from light emitted by nearby LED panels and studio lighting equipment.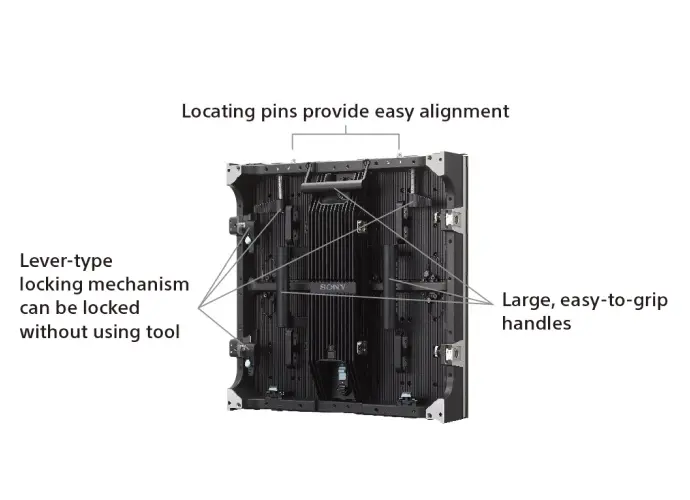 In addition to these advanced black levels and minimal reflection, the Verona series has a high brightness level of 1,500 cd/m2 and covers an impressive 97% of the DCI-P3 color gamut. The displays also benefit from high-performance LED drivers, capable of achieving refresh rates up to 7,680Hz, a feature aimed at reducing scanline artifacts.
Sony offers two new models in the Verona lineup: the ZRD-VP15EB/23EB and the ZRD-VP15EM/23EM, available in pixel pitches of 1.56mm and 2.31mm, respectively. Ease of installation has been a priority for these new displays, with a 1:1 cabinet design, which should allow production teams to efficiently set up displays as per the stage requirements. Other user-friendly features include easy grip handles and a tool-less lever-type locking mechanism.
The ZRD-VP15EB/23EB model is designed to work with Brompton Technology's Tessera SX40, and the ZRD-VP15EM/23EM model compatible with Megapixel's Helios processing platform. In terms of power efficiency, the ZRD-VP15EB model reports a 27% reduction in power consumption compared to the current ZRD-B15A model.
Additionally, Sony has revealed a new Virtual Production Tool Set, aimed at enhancing in-camera VFX. Key features of this tool set are the camera and display plugin, and the color calibrator, both promising to bring harmony between the physical and virtual elements of production. Beyond the realms of film and television, Sony's virtual production displays may also be used at live events and for corporate content creation.
Pro users can get a first look of the Verona series at IBC 2023 event in Amsterdam from September 15-18. Sony is saying the new displays will not hit the market before Spring 2024.
| Specification | ZRD-VP15EB/23EB | ZRD-VP15EM/23EM |
| --- | --- | --- |
| Supported display controller | Brompton Tessera SX40 Megapixel HELIOS | Brompton Tessera SX40 Megapixel HELIOS |
| Pixel Pitch | 1.56 mm | 2.31 mm |
| Surface | Deep black and anti-reflection surface technology | Deep black and anti-reflection surface technology |
| Resolution (W x H) | 320 x 320 | 216 x 216 |
| Brightness (Max.) | 1,500 cd/m2 (TBD) | 1,500 cd/m2 (TBD) |
| Contrast Ratio (0 lx) | >1,000,000:1 (TBD) | >1,000,000:1 (TBD) |
| Viewing Angle (H/V) | 170°/170° (TBD) | 170°/170° (TBD) |
| Color Gamut (BT2020, Δu'v' coverage) | >83% (TBD) | >83% (TBD) |
| Color Gamut (DCI-P3, Δu'v' coverage) | >97% (TBD) | >97% (TBD) |
| Color Gamut (sRGB, Δu'v' area) | 143% (TBD) | 143% (TBD) |
| Refresh Rate | Max. 7,680 Hz | Max. 7,680 Hz |
| Signal Interface | 1 in 1 out (2 x RJ45) | 1 in 1 out (2 x RJ45) |
| Operation Temperature | 0 °C – 45 °C (32 °F – 113 °F) (TBD) | 0 °C – 45 °C (32 °F – 113 °F) (TBD) |
| Storage Temperature | -20 °C – 60 °C (TBD) | -20 °C – 60 °C (TBD) |
| Operation Humidity | 20-80% (No condensation) (TBD) | 20-80% (No condensation) (TBD) |
| Storage Humidity | 20-80% (No condensation) (TBD) | 20-80% (No condensation) (TBD) |
| Power Requirements | AC100-240 V, 50/60 Hz | AC100-240 V, 50/60 Hz |
| Power Consumption (Max.) | <145 W (TBD) (<580 W/sqm) | <145 W (TBD) (<580 W/sqm) |
| Power Consumption (Ave.) | <73 W (TBD) (<292 W/sqm) | <73 W (TBD) (<292 W/sqm) |
| Dimensions (W x H x D) | 500 x 500 x 93 mm | 500 x 500 x 93 mm |
| Mass / Weight | Approx. 10.1 kg (22 lb 4.27 oz) (TBD) | Approx. 10.1 kg (22 lb 4.27 oz) (TBD) |
| Max. Self-stacking / Hanging | Max. 14 cabinets | Max. 14 cabinets |
| Application | Indoor | Indoor |