The Korean Display Industry Association (KDIA) has released its most recent analysis of the display industry's exports and it shows the importance of the industry to Korea's high-tech economy but also the impact of sluggish demand for electronics goods.
From 2019 to 2022, display exports increased and decreased due to the oversupply of LCD panels in 2019, the contraction of trade due to the pandemic in 2020, and the expansion of demand for IT products with the increase in telecommuting which lead to a surge in demand between the third quarter of 2020 and the end of the first half of 2022.
In the first half of 2023, the decline in exports slowed down due to the transition to OLED for high-value-added products such as LTPO and foldables, and IT products such as monitors, despite a significant contraction in demand for electronic products. KDIA is anticipating that in the second half of the year, exports will continue to improve with increasing opportunities for OLEDs particularly in the automotive sector. In August 2023, display exports were the highest among all of the national high-tech industries with year-on-year (YoY) export growth and the largest volume OLED shipments (amounting to $1,481 million) since January 2022.
In the first half of 2023, exports of mobile OLED panels decreased 24.2% YoY despite the inherent advantages that Korea's display industry should have in LTPO manufacturing. This was due to both the shrinking demand for rigid panels in the low to mid-range market, and the encroachment of Chinese companies into the market.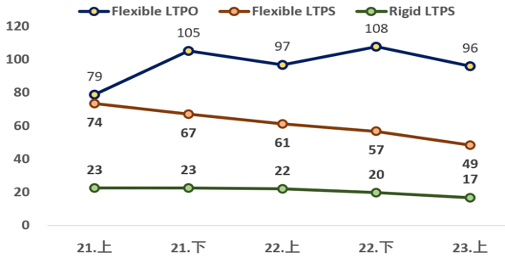 For its part, KDIA is holding meetings with Vedanta, the Indian company looking to become a force in display manufacturing, and establishing a presence for Korean companies at IESA (India Electronics and Semiconductor Association) this month and C-Touch, in Shenshen, China, to promote Korea's OLED display prowess. In the meantime, the KDIA is predicting that Korean, Chinese, and Japanese companies will continue to reduce their LCD production capacities while predicting the glut of LCD panels on the market is going to continue to hurt prices for a long time to come, and make it difficult to predict any recovery of profitability.