In the ever-evolving landscape of the global smartphone market, Canalys' latest research unveils a nuanced picture of the industry's performance in Q3'23. Contrary to conventional wisdom, the market exhibited a slight decline, slipping by a modest 1% to reach a total of 294.6 million units. This dip was attributed to vendors strategically releasing new models, capitalizing on a healthy inventory balance established in Q2.
Samsung emerged as the frontrunner in this competitive arena, shipping 58.6 million units and securing a substantial 20% market share. Their early foray into updating their foldable devices played a pivotal role in maintaining their pole position. Following closely behind was Apple, with 50.0 million units shipped and a 17% market share. Their success was driven by robust initial demand for the iPhone 15 series, which notably introduced USB-C connectivity.
Xiaomi, claiming the third spot, shipped 41.5 million units and witnessed a commendable 2% annual growth, largely propelled by its robust performance in emerging markets. Oppo, including OnePlus, clinched the fourth position with 26.4 million units shipped, capturing a 9% market share. Meanwhile, Transsion, encompassing Tecno, Infinix, and iTel brands, maintained its fifth position by shipping 26.0 million units, thanks to sustained momentum from the previous quarter.
Xiaomi and Transsion were the sole brands among the top five to experience growth. Xiaomi's resurgence in Q3 was attributed to successful inventory normalization in the first half of 2023 and the launch of the budget-friendly Redmi Number series in emerging markets. Transsion achieved an impressive 40% YoY growth, driven by increased shipments in the core African market.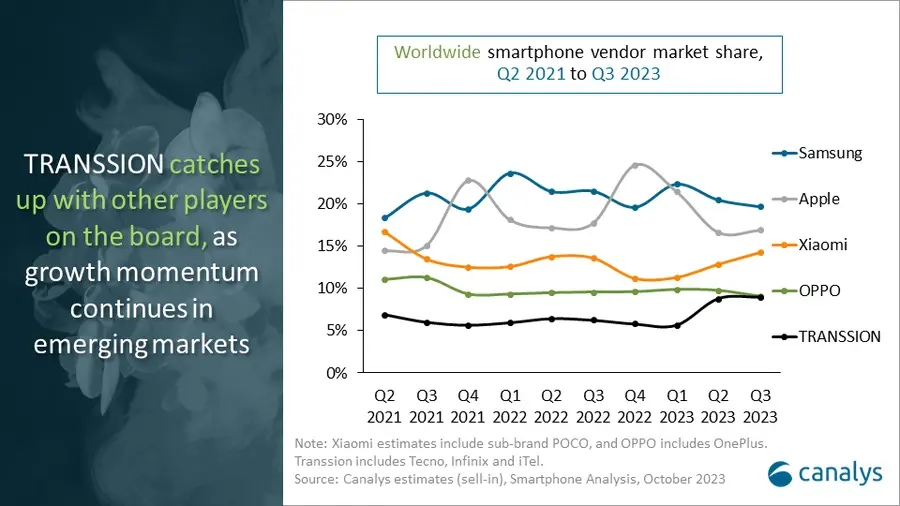 Despite currency fluctuations and import restrictions in certain markets, consumer demand for upgrades remained robust, with consumers adapting to higher inflation rates. In the Middle East, a growing budget segment demand, combined with a strong regional team, contributed to the momentum. Aggressive channel investments also expanded Transsion's footprint in Latin American markets alongside an enticing product portfolio.
The growing competition in the premium smartphone segment, where brands are enhancing their offerings through design and user interface improvements. The battle for supremacy in the foldable smartphone market is expected to intensify. Samsung's Galaxy Z Flip and Fold 5 series were launched earlier than usual in Q3'23 to boost revenue and market performance. However, as more foldable options enter the scene, Samsung's dominance faces a challenge. Oppo strategically introduced the Find N3 and OnePlus Open models in different regions, showcasing Android brands' ambition to capture the global foldable market. Learning from past demand challenges, Apple narrowed the gap with the addition of USB-C and Dynamic Island support to the iPhone 15 and 15 Plus models, resulting in stronger-than-expected sales in the high-end market.
Android brands are focused on improving ecosystem integration to compete with iOS. Consumers are increasingly willing to switch brands for better integration, prompting brands to develop their own in-house operating systems. Huawei's Mate 60 series, featuring the in-house Kirin SoC and HarmonyOS, and Xiaomi's HyperOS, are notable examples. These in-house operating systems are expected to create new revenue streams beyond smartphones, including IoT and electric vehicles. However, the key to their success lies in providing unique and compelling experiences to consumers.
| Vendor | Q3,23 Shipments (million) | Q3,23 Market Share | Q3,22 Shipments (million) | Q3'22 Market Share | Annual Growth |
| --- | --- | --- | --- | --- | --- |
| Samsung | 58.6 | 20% | 64.1 | 22% | -9% |
| Apple | 50.0 | 17% | 53.0 | 18% | -6% |
| Xiaomi | 41.5 | 14% | 40.5 | 14% | 2% |
| OPPO | 26.4 | 9% | 28.5 | 10% | -8% |
| TRANSSION | 26.0 | 9% | 18.6 | 6% | 40% |
| Others | 92.1 | 31% | 93.1 | 31% | -1% |
| Total | 294.6 | 100% | 297.8 | 100% | -1% |
Global smartphone shipments and annual growth. (Source: Canalys)
Canalys anticipates modest growth in the global smartphone market in 2024. Vendors are expected to end 2023 with healthier inventory levels, allowing them to prepare for potential demand surges. Nevertheless, regional disparities may arise due to conflicts and geopolitical tensions, necessitating flexible and adaptable strategies to seize growth opportunities in specific regions. Long-term growth prospects remain constrained by extended replacement cycles in major markets, pushing vendors to continuously enhance their capabilities and prioritize profit and product portfolio optimization.