MiniLED display shipments are expected to decrease to 13.3 million units in 2023, a drop from 2022, according to market research firm TrendForce. However, TrendForce forecasts a rebound in 2024 with shipments estimated at 13.8 million units. The overall trend points to sustained growth through 2027 as prices for MiniLED components continue to decline.
In the TV segment, despite rising LCD panel prices and high OLED depreciation costs, prices for MiniLED TV components are falling below competing technologies like WOLED and QD-OLED. MiniLED TV shipments are estimated to reach 6.2 million units in 2024, a 53.5% increase versus 2023. Volumes could hit 24.4 million units by 2027, capturing over 12% market share.
For IT devices, growth for MiniLED monitors is expected after 2026 as costs decrease further and the OLED monitor market saturates. MiniLED notebook and tablet shipments face headwinds from expanding RGB OLED availability. Notebooks are forecast to decline 39% in 2023 with tablets down 15.6%.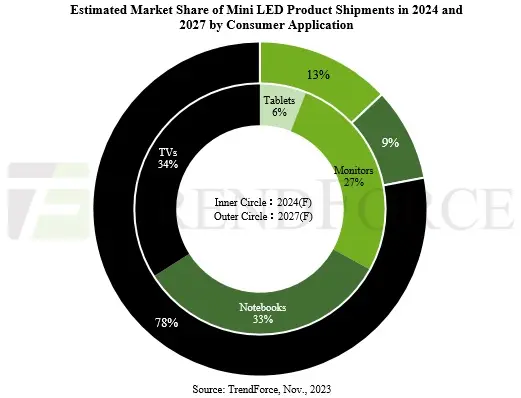 In automotive displays, while the global economy remains weak, adoption of MiniLEDs is expanding as automakers upgrade to smart cockpits. BMW, Mercedes-Benz, Volvo, NIO, and others are entering the MiniLED automotive display market. Competition with OLED and other technologies is projected.